CRRA offers Citizenship Preparation Classes multiple times throughout the year.
All Lawful Permanent Residents (Green Card holders) of the Charlotte community that need to prepare for the Citizenship Test are welcome to register.
Five Week Class (25 hours total) offered mornings and evenings through the year $50.00 registration fee includes the course textbook
CLASS INCLUDES:
U.S. history and civics information
Preparation for the "100 Questions" of the U.S. Citizenship Test
Interview practice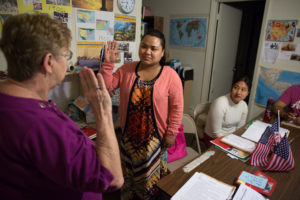 CLASS LOCATION:
CRRA Office
5009 Monroe Road, Suite 100
Charlotte, NC 28205
---
For information about the next class schedule, please contact:
Marsha Hirsch, Citizenship Instructor
704.535.8803
marsha.hirsch@carolinarefugee.org
For additional information regarding the process and procedures to becoming a U.S. Citizen, please refer to the following website:
U.S. Citizenship and Immigration Services (USCIS).
If you need assistance completing the Citizenship Application, known as the N400, please contact weh.ksor@carolinarefugee.org for more information.