The government grants we receive are not enough to provide all of the services our refugee population requires. For any contribution the agency is happy to provide you with a Donation Tax Receipt.
Cash Donations:
Support job programming
Provide extra case management services
Sustain post-resettlement needs
Furniture and Household Donations (new or gently used):
Twin and full-sized beds and mattresses
Sofas and chairs
Kitchen tables and chairs
Strollers, car/booster seats, playpens
Winter outerwear (jackets, gloves, and hats)
Blankets, comforters, sheets and towels
Toiletries and cleaning supplies
Dinner plates, cups, utensils, pots and frying pans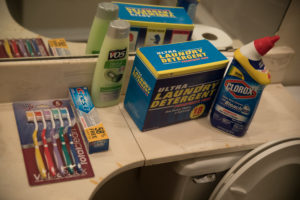 Here is a link to the the full list of items needed.
If you have the capability to drop off large furniture donations please call the office and  a staff member will arrange to meet you at one of our storage locations.
For other household items, we ask that you bring them directly to CRRA during our office hours,  9AM to 5PM, Monday through Friday.
We provide a Donation Tax Receipt form at the time of pick-up/drop off of the donations for your convenience.